CSR Policy
Our CSR Vision & MissionIndependent News Service Private Limited having the Channel 'INDIA TV' is an integral part of the Indian Media & Entertainment Industry. Our vision is to actively contribute to the economic and social development of our Country.
Essentially, Corporate Social Responsibility (CSR) which is deliberate inclusion of Public Interest into corporate decision making by undertaking major project for development of a backward district has the potential of contributing significantly in the long run to socioeconomic growth in the backward regions. The emerging concept of CSR goes beyond charity and requires the company to act beyond its legal obligations and to integrate social, environmental and ethical concerns into the company's business process.
CSR CommitteeThe CSR Committee of the Company consists of two Directors of the Company.
Our ActivitiesThe CSR activities we pursue will be in line with our stated Vision and Mission.
The focus areas where special Community Development programmes would be run are:
Promotion of education especially among under privileged children, women, elderly and the differently abled including:

Non-formal education programmes.
Supporting schools with infrastructure like benches, toilets, potable water, fans etc.
Supporting other educational institutions.
Improving educational facilities in general.
Supporting children for higher education.

Promoting Health care including Preventive Health care through awareness programmes, health check-ups, provision of medicine & treatment facilities,financial aid for the under privileged.
Eradicating hunger, poverty and malnutrition

Provision of food, nutrition supplement, clothes etc for the poor, children and other deprived sections of the society.
Supporting nutrition in anganwadi centres and building capacities of anganwadi workers to this effect.
Provision of shelter for homeless.
Promoting sanitation, making available safe drinking water

Employment and livelihood enhancing vocational skills and projects including tailoring, beautician, mehandi application, bee keeping, food processing and preservation, vermi-composting and other Life Skill Training and livelihood enhancement projects.
Ensuring ecological balance, protection of flora and fauna, animal welfare, agroforestry, conservation of natural resources and maintaining quality of soil, air and water:

Helping animals and birds who are in agony.
Taking measures to suppress cruelty to animals.
Educating children and adults to be more humane and kind to all living creatures.
Providing free medical treatment to those animals whose owners cannot aforesaid the expenses of the treatment.

Employing people and incurring other costs to carry out aforesaid activities.
Such other activities as the Board may consider be appropriate.
Our approach to implementationWe will strive to implement the aforesaid CSR activities on our own to the extent possible. At the same time, we recognize need to work in partnership with other players also. This would include:
Collaborating with various organisations, which are registered as a Trust or a section 8 company under the Companies Act, 2013 or Society or any other form of entity incorporated in India that specialise in the aforesaid activities.
Contribution to various funds which are aligned with our Vision and Mission e.g.

Prime Minister's National Relief Fund
Any other fund set up by the Central Government for :

socio-economic development and relief.
for the welfare of Scheduled Castes, the Scheduled Tribes, other Backward classes, minorities and women.

Collaborating or pooling resources with other companies to undertake aforesaid CSR activities.
CSR Funds The corpus for the purpose of carrying on the aforesaid activities would include the followings:
2% of the average Net Profit made by the Company during immediately preceding three Financial Years.
any income arising there from.
surplus arising out of CSR activities carried out by the company and such surplus will not be part of business profit of the company.
MonitoringThe CSR department will provide regular progress report to the CSR Committee of the Board. This report would indicate:
Achievement since last progress report / during the last quarter in terms of coverage compared to the target and reasons for variance.
Achievement of the year-to-date in terms of coverage compared to the target, plans to overcome shortfalls if any and support required from the CSR Committee/Board to overcome the shortfalls.
Actual year-to-date spends compared to the budget and reasons for variance.
In respect of activities undertaken through outside Trust/Society/NGO's etc. there will be mechanism of monthly reporting of progress on each such activities and the amount incurred thereon.
The Board shall seek a short progress report from the CSR Committee on a quarterly basis.
A fleet of 15 battery operated buses have been donated by the Independent News Services Pvt. Ltd. (India TV) as part of their Corporate Social Responsibility (CSR) initiative. More than 7500 Patients and Support Staff gets benefited from this free service per day. The buses are being maintained by Independent News Services Pvt. Ltd. (India TV) and the company is also bearing the salaries of drivers and other support staff. The buses are being optimally utilized for transporting patients, attendants serving patients and other support staff within the AIIMS campus.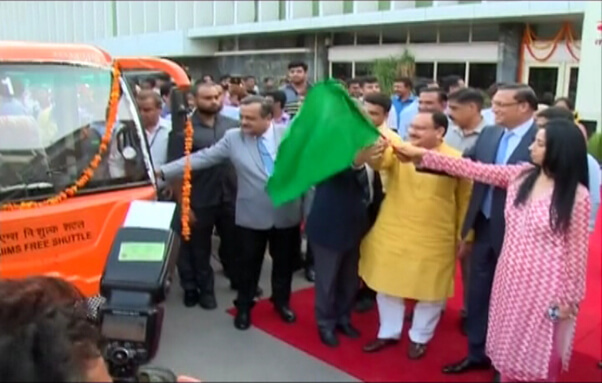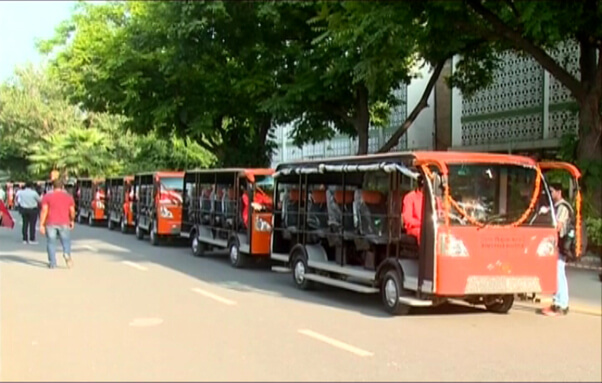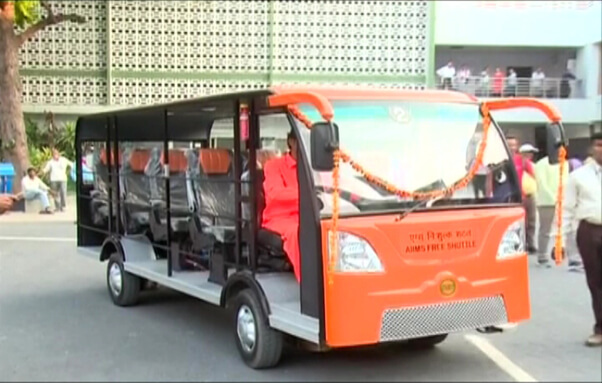 Independent News Service Pvt. Ltd. as part of its Corporate Social Responsibility initiative supports Friendicoes SEC A, financially, on a monthly basis, for providing shelter, food and medical treatment of stray animals. Friendicoes is registered as an entity for undertaking CSR Activities with the Ministry of Corporate Affairs.
FRIENDICOES SECA In the 1970's a group of school kids got together and started a kindness club for distressed stray animals under the Defence Colony flyover. The space was provided for by the then Prime Minister of India, Indira Gandhi's regime. It was a small set up with just 2 rooms and a handful of animals. In April 1979 it was registered as a society called Friendicoes SECA.
Friendicoes, at present, is a much bigger shelter in the same location and has an Out Patient's Department, an in-house clinic for the strays that accommodates about 150-200 animals at any point of time, two operation theaters, a Lab & X-ray unit as well as a sanctuary in Gurgaon that houses about a thousand animals. There is also round the clock ambulance service for the strays as well as an emergency night clinic for pets. Apart from abandoned & lost pets, sick strays, the occasional bird and monkey in distress also make their way to Friendicoes Delhi shelter. At any point of time the place has around 150-200 animals in residence. Most of them are in transit, recuperating from injuries or sickness before going back to their respective areas.
It has among others;
Ambulance Services with a helpline from 9am to 9pm for distressed strays who needs medical assistance. This service is supported by the three ambulances
Spay/Neuter Program which includes sterilization program. The term "spay" refers to the sterilization of female dogs by means of removing the reproductive organs. While the term "neuter" is more commonly used for the castration of male dogs but can also be used to describe the sterilization of females.
3. Adoption shelter for many abandoned pets who have been discarded by their owners for various reasons and includes desi puppies from the streets including kittens and cats. The shelter also rescues or receives many desi pups as orphaned, lost or sick/injured cases.
Mobile Equine Clinic for the welfare and benefit of the working Equines of Delhi and its surrounding areas. It also provides free farriery training as well as service for the Equine owners. Old, injured or handicapped Equines are also offered permanent sanctuary at the Friendicoes Gurgaon sanctuary to avoid being abandoned on the road side to die of starvation or car hits.